We know that your precious jewelry has a value that is not only monetary and that is why we offer the possibility to transform those treasures sleeping in your jewelry boxes! We can use pieces that you already have and transform them completely. Sometimes because they are old-fashioned, in some cases because we want to forget their symbolic (like a divorce), and often because they have a big sentimental value but we don't wear them. Here are some of the frequently asked questions about makeovers. Do not hesitate to contact us for further information!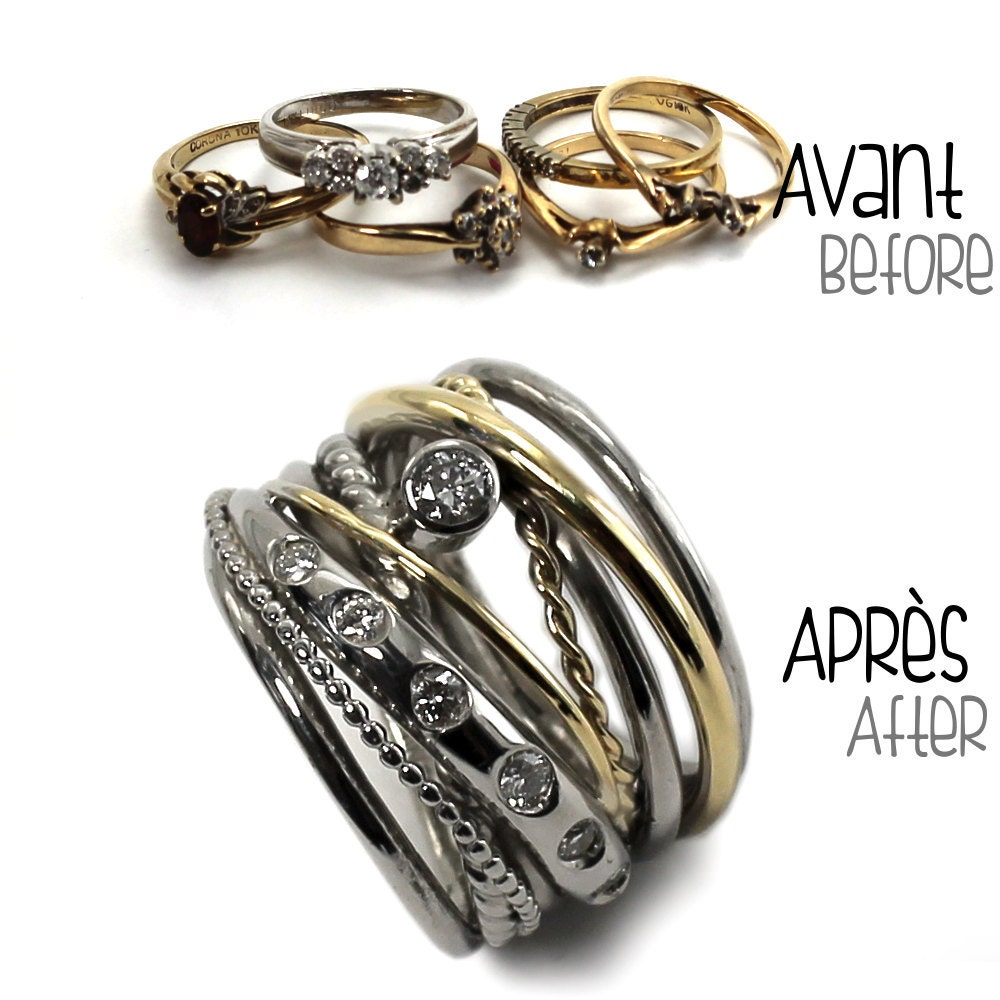 HOW MUCH DOES IT COST?
The price of a makeover varies from a project to another. In some case, the gold supplied by the customer will be sufficient to realize the project and then, only the time will be charged. In other cases, we need to add some gold, diamonds or other materials which shall have a direct incidence on the price. Therefore, it is impossible to answer clearly to "how much does it cost" because it is very variable and unique to every project. During a first meeting, we will quickly establish the value or the weight of your treasures, your needs or desires regarding jewelry, and your approximate budget. Case by case, one or several proposals will be presented to you to meet the requirements or the constraints to be satisfied.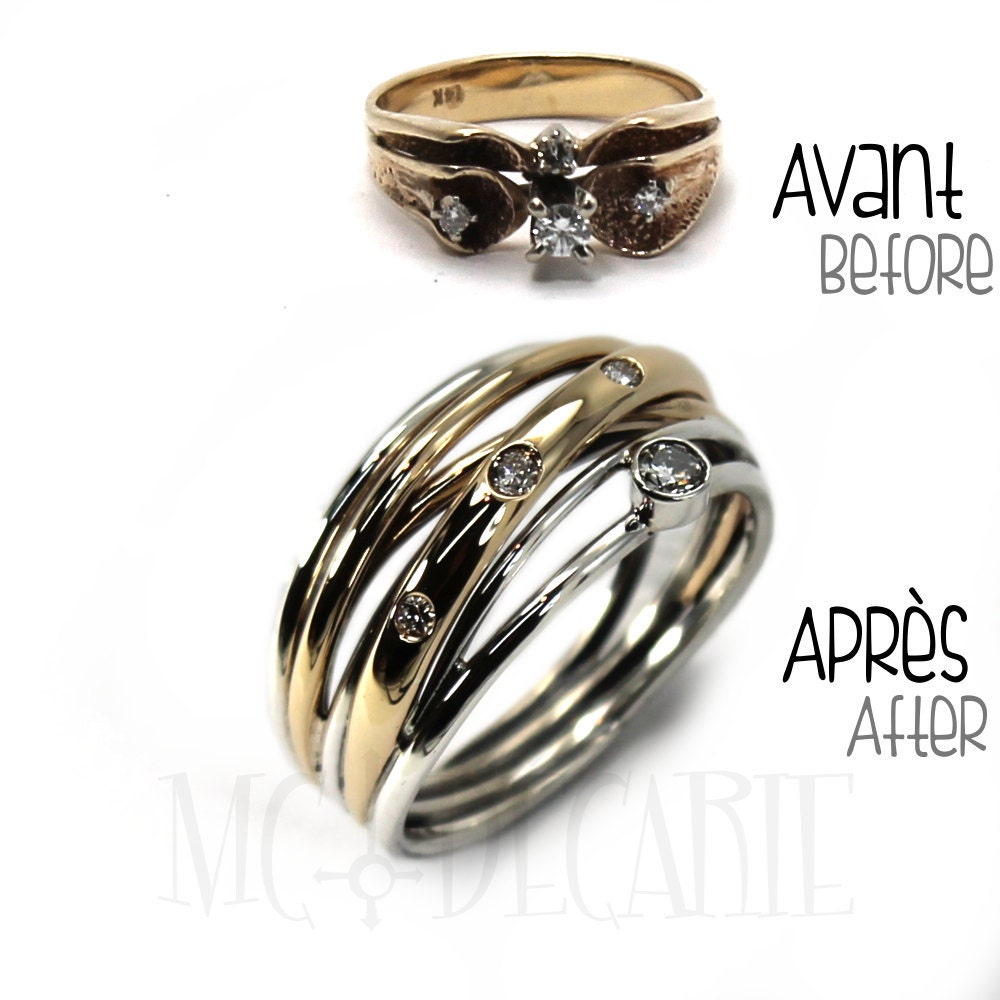 HOW IS IT MADE? 
The processing techniques used for the reshaping jewelry are different to every transformation. In some cases, it will be possible to use your metals as they are and transform them directly in our studio. In other cases, your new piece will be sculpted in a hard wax then casted with your metals. The process of lost wax casting will be made outside our workshop by reliable professionals.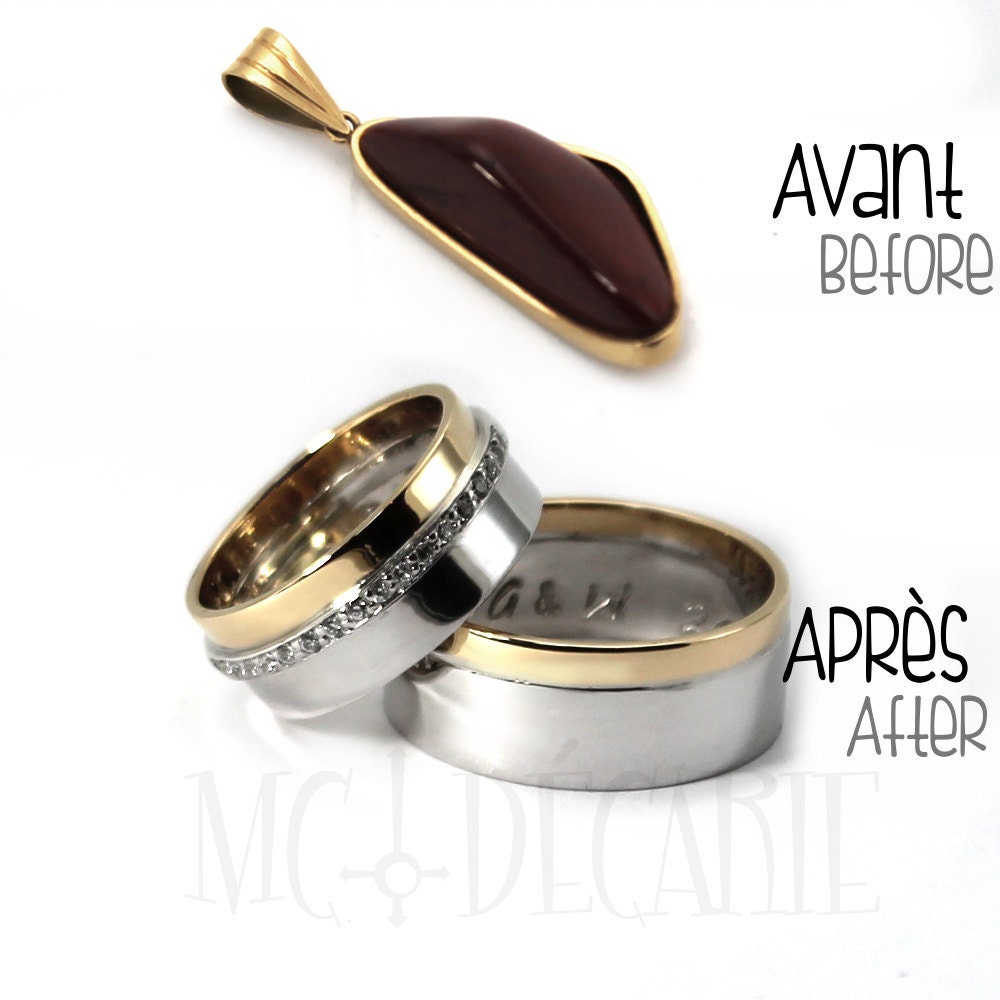 WILL MY GOLD BE USED AS IT IS?
 It is always best to mix the gold of your old jewelry with a new alloy of gold for a better quality. Jewels always contain certain percentage of welds and impurities which will be present once the gold is casted and transformed. By adding a quantity of new gold, the impurities are reduced and the color will be more uniform.It is thus preferable to proceed so.  All that said, from the customer's request, we often realized jewels by using the gold as it stands with a surprisingly impeccable result. This choice will have an impact on the cost of the transformation. Please note that for the white gold, it is almost impossible of the reused as it is in our workshop.  
IS IT POSSIBLE TO MIX 18k OR 14K WITH OF 10K?
It is possible to use together jewels of various carats, but they must be the same color. In this case we will establish which carat gold you would like to have in the end and the alloy will be accordingly adjusted.  
IS IT POSSIBLE OF TO MIX WHITE GOLD WITH YELLOW GOLD?
It's not possible to mix together gold of different color. These alloys are made of pure gold and other metals of various colors. To use them, it would need to purify them to extract only the pure gold, a process impossible in our workshop.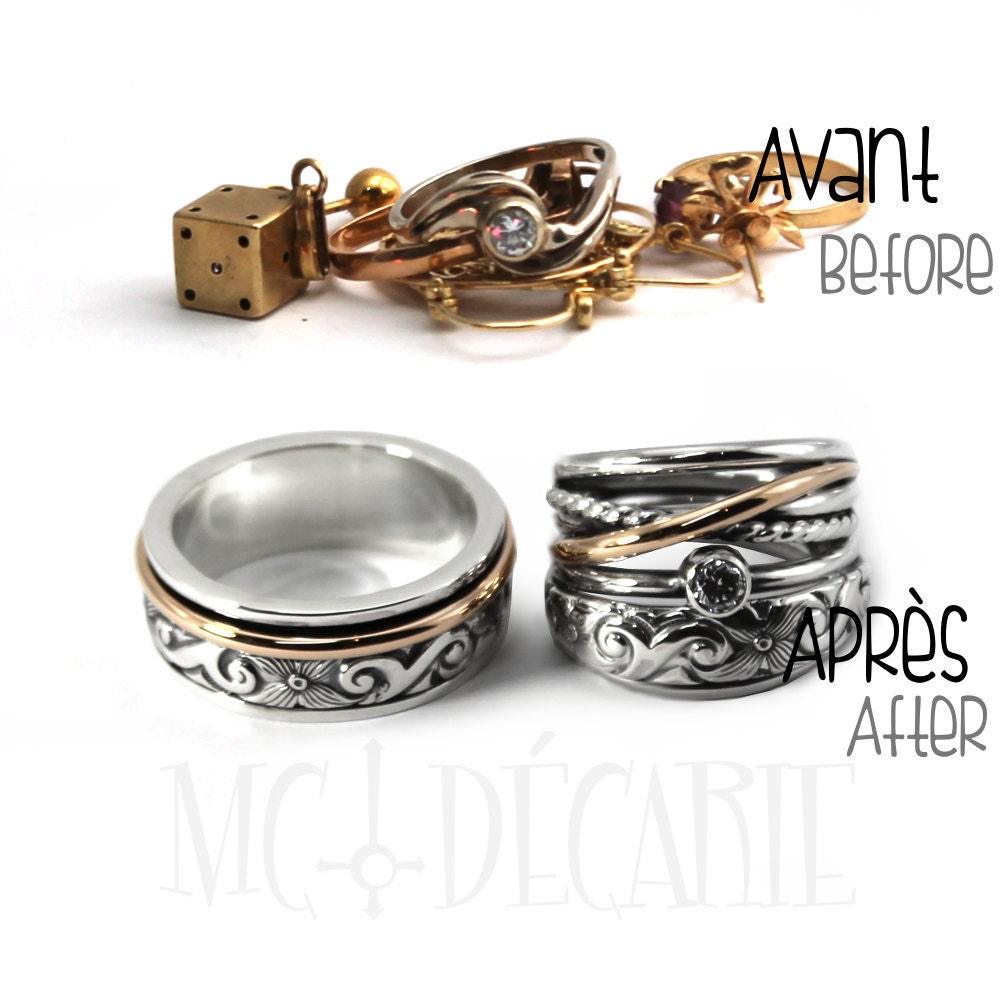 CAN YOU REUSE MY STONES AND DIAMONDS?
Your stones or diamonds can generally be reused in your new jewelry.  Diamonds will be examined before being unset and inspected well before setting them back. Usually, we can reuse most of your diamonds without any problems.  For stones, we proceed the same way by inspecting them before and after we unset them. Stones being more fragile and less hard than diamonds, it is possible that the surface is damaged or that stones are chipped or broken. Concerning pearls, opals or other soft gemstones it is not rare that the surface is very damaged. You will then be informed and advised on the possibilities to reuse or to replace your gems.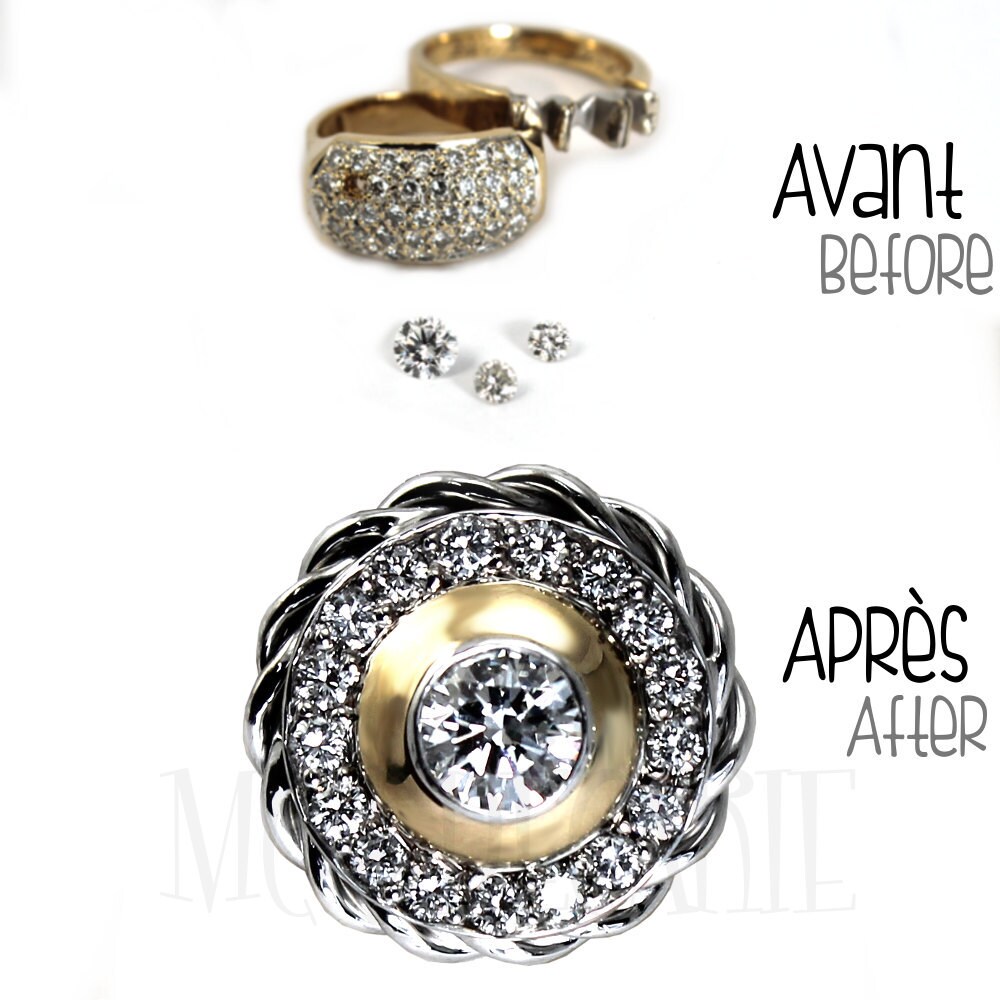 HOW DO I KNOW MY DIAMOND WON'T BE EXCHANGED FOR A LESS VALUABLE DIAMOND?
Your diamonds having a monetary and sentimental value, be assured that we completely understand your concerns. We sincerely believe that any respectable jeweler shall never make such a thing. But as in any commercial sphere there will be always be dishonest people who stains the reputation of the passionate and honorable professionals. If you have any concern, please express them to us so that we can inform and reassure you on the subject. Every diamond being unique, it is generally possible to identify them and to recognize them. Before leaving us your diamond, it will please us to look at it with the microscope and to make a sketch that will identify the main inclusions and their location. Your diamond has a very high value and you hesitate to leave it to anyone? You might consider to have it evaluated by an independent gemmologist which can identify and distinguish your diamond afterward. 
WHAT IS THE MANUFACTURING DELAY?
The manufacturing time are variable according to the type of makeover to be made. The simplest transformations can be realized in 1 in 2 weeks, while the more complex designs and which require a subcontracting can take more than a month. The time of the year has also an incidence. For example, during the Christmas season or the summer holidays, the delays are longer.You will be informed about the time frame before beginning your order. If you have a time constraint, we will do our best to satisfy your needs.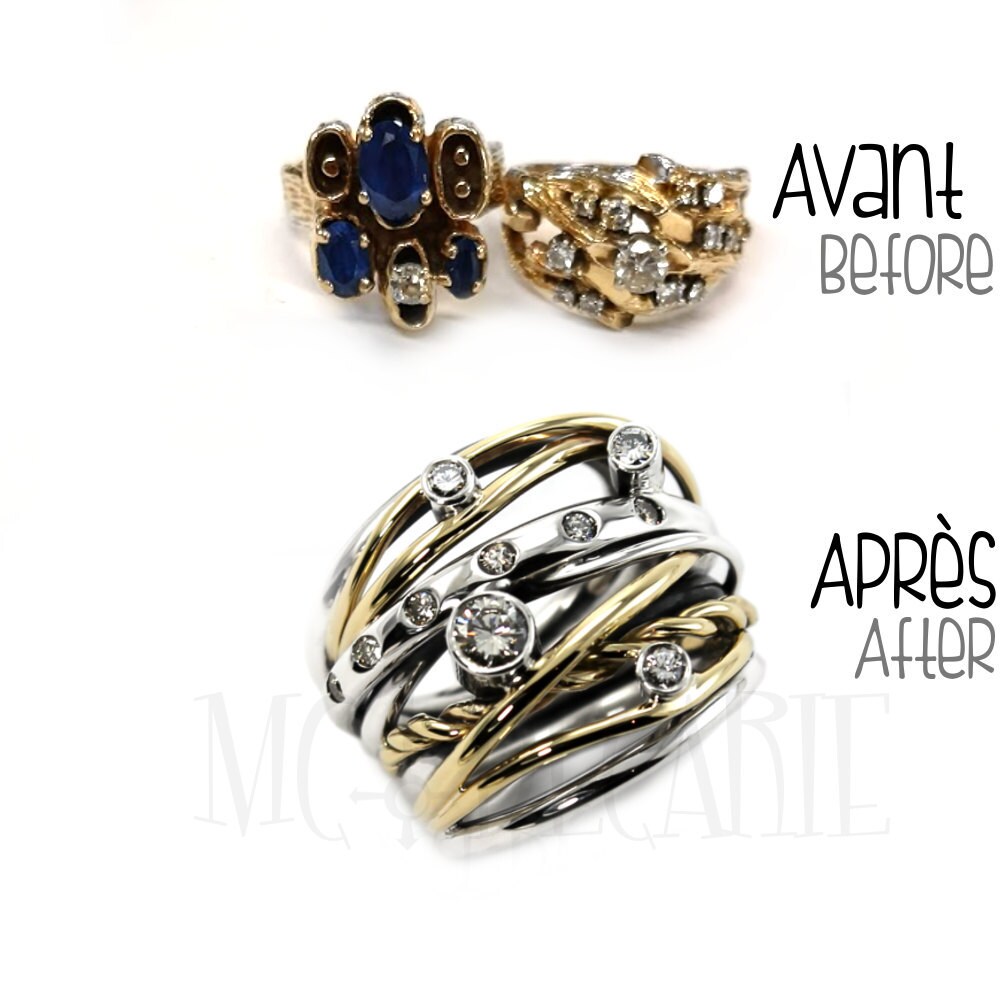 I WANT TO TRANSFORM MY JEWELRY!
You have jewels to be transformed? The simplest way to proceed is to come to meet us to the shop to Oka. It is Marie-Claude Décarie who takes care of designs and of estimations for the transformations, it is thus preferable to book an appointment with her. Bring your gold jewels which are in transformed or unused. A broken chain, a single earring, a horn of plenty … If you did not wear them for years, it is maybe time to give to them a second life! 
CALL US TO MAKE AN APPOINTMENT:
514 815 5568
Our studio is located at 127 Notre-Dame, Oka, J0N 1E0, QC, Canada 
YOU ARE OUTSIDE THE REGION?
Distance is not an issue! After a first contact, it will be possible to establish your needs by phone or by e-mail. Your old jewels will have to be send to us to confirm the budget and the design. After several exchanges of photos and after confirmation, the payment can be remotely realized and your new jewel to send by mail!
 ARE YOU READY FOR A CHANGE? ;)