Wedding Ring Guide
When it comes to choosing your wedding bands, the possibilities are endless. Before making your final choice, it is better to take the time to ask yourself several questions. It is from many conversations that I had with my clients who come to choose their wedding rings that I wanted to write this little guide. Over the years, I have noticed that many couples have ill-conceived ideas or perceptions on the subject. Here are the main aspects to consider and on which I leave you some personal advice. I'm talking about wedding rings here, but also rushes. Whether it's wedding rings, "promise" rings or just for symbolism, the same advices apply. 
Define style
Unless you've already had an immediate crush, I always recommend taking the time to look at lots of rings, online or in jewelry stores, to compare and see which styles appeal to you more than others. We can then go there by elimination from the general style, the width of the rings, thickness, color or type of materials, etc. 
Want to integrate something you already have?
It is common for women to want their wedding ring to match their engagement ring. If they were not purchased at the same time, the ring will often have to be made to measure. You might also have a diamond, gold or other symbolic jewelry material to embed; again, thanks to the creation of custom jewelry, it is usually possible to fulfill all your requests.​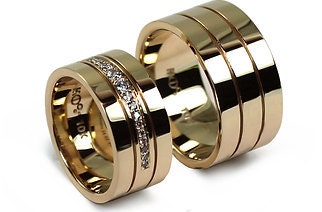 Do the rings have to match?
It's a very personal choice. Nowadays traditions are less respected, and everyone enjoys greater freedom of choice. Whether you want a set of identical rings, or just one ring each, it's important that both people love their ring; you will wear them for years! I like to create sets of different rings, but with a link between the two. Sometimes only the interior engraving can connect them to each other; it's up to you!​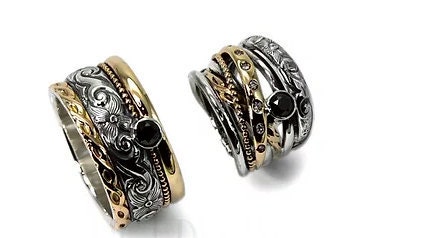 Rings should match your lifestyle
Think about your lifestyle habits and ask yourself if you want to wear your rings all the time. For example, if you have to put on gloves every day at work, a higher stone on the ring could be very disturbing. If you work a lot manually, you need a thick and solid ring, which will not bend under the force of your hands. Also consider maintenance; will you do a monthly cleaning on your rings? Or would you rather never have to think about it?​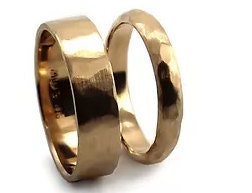 What types of material?
I hear a lot of preconceived ideas about metals, such as "18k gold is fragile". Before making it an argument, you have to analyze the different options available and compare them with each other. The important thing is to choose metals that last over time; which can be repaired and refurbished. 
Avoid yellow gold, rose gold or black rhodium plated metals; after only a few months of wear, the plating will wear off. Unlike rhodium plating which is done tone on tone, these platings are different colors from the base; contrasting marks will appear and few jewelry stores offer these re-plating services.  
 As for gold filled , i.e. a thin layer of real gold on another material, it is a preferable choice to gold plated, but again, not durable and irreparable. Also forget the upgrades. In addition, it is not uncommon to see people have a reaction to the metal under the gold layer, especially the finger which turns green.  ​
Materials like stainless steel, tungsten, or titanium can't be scaled, and that's definitely a factor to consider. However, they are durable and strong. Too hard for our tools; we do not work these types of metal in our workshop. 
 ​For the choice of stones, it is the same principle. Prefer a hard stone (hardness 8.5 or more) over a fragile stone or a pearl. Choose a gem set in the metal and not glued; even the best glues eventually dry out over the years. Consider buying a diamond, which will survive the years without scratches.  ​
Think long term
Wedding rings should have a lifespan of at least 20 years, if not 40 or 60 years. Choose a durable material, and also think about repairs and upgrades. Over the years, we gain weight, we lose weight, the joints swell and our fingers change. For all these reasons, we must regularly make upgrades. Although some types of design are more complex such as meditation or eternity bands, on silver or gold rings this is almost always possible.  ​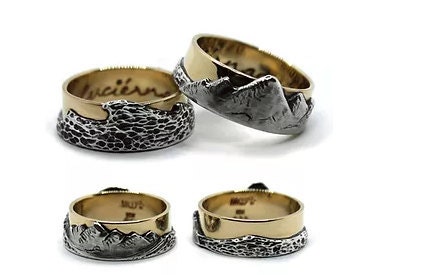 Engravings
Many couples choose to have the inside of their ring engraved. Whether it's initials, a date or just a little heart, consider your engravings before finalizing the order. Customers often think they can engrave later, when in some cases this is not possible. There are also options other than engraving for your rings to tell a story; be creative! 
Budget
There is no rule that says you should spend $X per week's salary or such percentage of your wedding budget on your rings. Although it is very normal to set a budget for your alliances, prioritize the above elements in your choices rather than preconceived ideas. Your choices exceed your budget? Before you compromise on the ring, consider your priorities. Is it essential to have such size/quality of diamond? Because a small diamond will be more durable than a big CZ. Would rhodium-plated silver be an option instead of white gold? A wedding is an event that generates a lot of expenses, but do not forget that in the end, it is the rings that will remain and they are the memory that you will keep the longest.  ​
Production time
Allow a few weeks to a few months for the manufacturing of your rings. Even if the announced deadlines correspond to your dates, it is always preferable to have the rings already finished a month in advance; if ever there is a problem of size or other adjustment to be made, you will not be stuck in time. Once you have your rings, try them on several times at different times of the day to check the size; make sure you can put your ring on if your fingers ever get swollen on the wedding day!